Small Log Supplier in Lapoint, UT
Huberwoods a solely-owned logging contractor and small log supplier serving Lapoint, Uintah County, and Vernal, UT and beyond! Our wood yard carries wooden lodgepoles, teepee poles, fence posts, and fence stays for a wide range of applications. We have all the wood materials you'll need for your building project, and we can deliver up to 300 miles away for your convenience! Owner Brad Huber has been in the logging industry for over 20 years. Our wooden post suppliers deliver up to 300 miles around Utah, to enhance the convenience of our customers. All of our logs come with bark on, uncut and un-tapered. We can work with other companies and wooden lodgepole suppliers throughout the area to help you get the logs you need. Our logs can be purposed for a wide range of applications, including fencing, teepee, and lodgepoles.
The Premier Lodgepole Supplier in Utah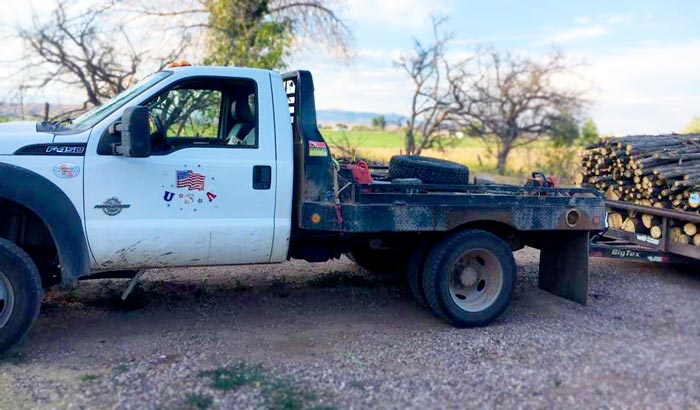 Thanks to decades in the logging industry and a penchant for customer satisfaction, Huberwoods is proud to be your trusted lodgepole supplier in Utah. Our lumber yard is filled with logs of all sizes and diameters, ready to be purposed by our customers for a wide range of applications. Peel and treat them with linseed oil for quality teepee pole replacements or finish and join them for rustic furniture appeal—whatever your project demands, we're happy to help. Need wood for fence posts and stays?
We've got wood for that as well, and we're more than happy to deliver it within 300 miles throughout Utah to better serve you. Just give us a call, tell us what you need and we'll get to work. Even if we don't have what you're looking for, we can even point you in the right direction! We're happy to refer you to other lumber yards or loggers and have a friendly, working relationship with suppliers throughout the area. So, whether you're in need of firewood, wood for fencing or are just looking for bulk lodgepoles for sale in Utah, Huberwoods is ready to meet your demands. Contact our firewood suppliers today to see how we can assist you in getting the logs you need.
We offer the best in teepee, lodgepoles and firewood in all of Utah and the border cities, including areas such as:
American Fork, UT
Cottonwood Heights, UT
East Millcreek, UT
Highland, UT
Lindon, UT
Orem, UT
Payson, UT
Pleasant Grove, UT
Price, UT
Provo, UT
Spanish Fork, UT
Springville, UT
Western Colorado
South Western Wyoming
Get the Wood You Need
Whether you're fencing in an enclosure, setting up a teepee or building furniture, Huberwoods is ready to provide you with the lodge poles and other logs you need. Contact us today.