November 1, 2023 9:05 pm
Leave your thoughts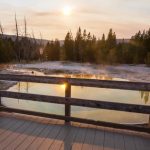 When it comes to enhancing the beauty of your backyard or outdoor space, lodgepole landscaping is a versatile and aesthetically pleasing choice. Lodgepoles, derived from pine trees, offer a range of possibilities to transform your outdoor environment. From bridges and fences to handrails, tables, benches, and pillars, the use of lodgepoles can bring a touch of rustic elegance and durability to your landscape.
Lodgepole Bridges: Bridging the Natural and the Built
Imagine strolling through your backyard and crossing a charming wooden bridge made of lodgepoles. Lodgepole bridges not only serve a practical purpose by providing a pathway over water features or uneven terrain but also add a distinctive, natural element to your landscape. The straight and slender nature of lodgepoles ensures that these bridges seamlessly blend into the surroundings, creating a harmonious transition between the natural and the built environment.
Lodgepole Fences: A Timeless Boundary with Character
Fencing is not just about demarcation; it's an opportunity to add character to your outdoor space. Lodgepole fences, with their rustic charm and natural finish, offer a timeless and durable solution. The straight, slender logs create a visually appealing boundary that complements various architectural styles. The durability of lodgepoles means your fence will stand the test of time, requiring minimal maintenance while retaining its classy appearance.
Handrails: Safety Meets Aesthetics
Incorporating lodgepole handrails into your outdoor staircase or elevated platforms is a practical way to enhance safety while simultaneously adding a touch of rustic beauty. The sturdy nature of lodgepoles ensures reliable support, making them an ideal choice for handrails. The natural texture and color of the wood contribute to the overall aesthetic, creating an inviting and warm atmosphere in your backyard.
Tables and Benches: Functional Elegance
Lodgepole tables and benches bring a perfect blend of functionality and elegance to your outdoor seating area. Whether you're hosting a casual family gathering or an intimate evening with friends, these pieces create a cozy and inviting atmosphere. The durability of lodgepoles ensures that your outdoor furniture will withstand the elements while retaining its natural beauty, providing you with a comfortable and aesthetically pleasing space for years to come.
Pillars: Elevate Your Landscape Design
Lodgepole pillars can be strategically placed to add vertical interest to your landscape design. Whether used as standalone decorative elements or as supports for pergolas or arbors, lodgepole pillars provide a sturdy and visually appealing foundation. Their natural texture and earthy tones make them a versatile choice that complements various landscaping styles, from rustic to contemporary.
Durability: A Testament to Lodgepole Strength
One of the standout features of lodgepoles is their exceptional durability. Derived from pine trees, lodgepoles possess natural resistance to decay and insects, making them a long-lasting and low-maintenance choice for outdoor landscaping. This durability not only ensures the longevity of your lodgepole structures but also reduces the need for frequent replacements or repairs, making them a sustainable and cost-effective option for your backyard transformation.
Classy Rustic Look: Timeless Appeal
The beauty of lodgepole landscaping lies in its ability to provide a classy, rustic look that stands the test of time. The natural texture, color variations, and straight lines of lodgepoles create an aesthetic that effortlessly complements the outdoor environment. Whether you're aiming for a cabin-inspired retreat or a modern outdoor space with a touch of warmth, lodgepole landscaping adds a timeless appeal that enhances the overall beauty of your backyard.
Summary
Lodgepole Landscaping offers a versatile and durable solution to elevate your backyard or outdoor space. From bridges to fences, handrails, tables, benches, and pillars, the use of lodgepoles brings a touch of rustic elegance that stands out for its timeless appeal. Invest in lodgepole landscaping to not only transform your outdoor environment but also to enjoy the lasting beauty and durability that these natural elements bring to your backyard oasis.
Need Wooden Lodgepoles in Lapoint, UT?
Welcome to Huberwoods! We are a solely owned logging contractor serving Lapoint, Utah and beyond! Our wood yard carries teepee poles, trail poles, furniture logs, posts, and flower pots made of logs. We have all the wood materials you would need for your building project. Huberwoods also delivers up to 300 miles to better the customer's convenience. Business owner Brad Huber has been in the logging industry for over 20 years. He has all the knowledge and skill to produce exactly what you need. Stop by or call us today!
Categorised in: Lodgepoles, Projects with Wood
This post was written by admin